---

Bio
Victoria is an archivist and design historian, with a professional background in paper-based and photographic collections. At the heart of Victoria's research interests are themes of sustainability and gentleness, and her research on Japan's historic paper objects through her MA will be continued in Tokyo from September 2022.


---
Research Project
From Leather Pouches to Golden Walls: The Creation of 'Japanese Leather Papers' (1862-1892)
Exploring Japan's history of making 'leather' from paper, and how this became an object of modernity within the domestic interiors of Victorian Britain.
Keywords

Material Culture, Modern,

Europe

, Asia, Applied Arts, Technologies, Interior Space, Natural Objects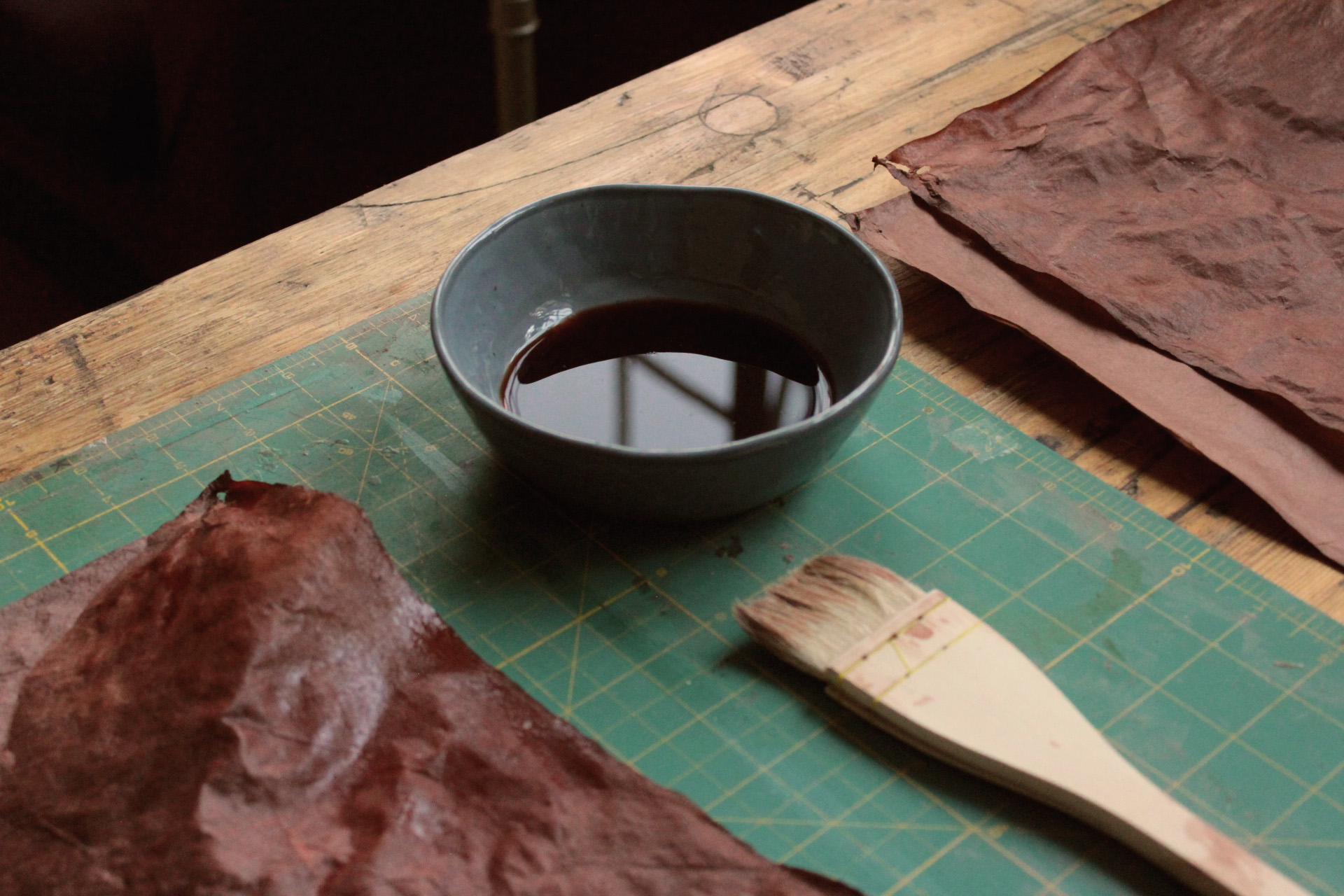 Victoria Bennett, Experiments In Reconstructing Leather-Paper, 2022. © Victoria
Bennett.
On first thought, the idea of Japanese wallpapers designed to imitate golden, embossed 'Spanish' leathers for the drawing rooms and libraries of middle-class Britain appears to be another example of eclectic Victorian novelty. Japanese Leather Papers, as they were known, were brimming with cultural capital - exuding exoticism, artistry, and 'good taste' at a time of booming interest in domestic design. Although the fashion for these wall-hangings lasted a relatively short time - around seventeen years in Britain from 1883 - the peak of demand saw thousands of rolls being shipped to London every month, appearing in high-profile interiors including Buckingham Palace, alongside those designed by Oscar Wilde, Christopher Dresser, and E.W. Godwin. Despite this, they remain a lesser-known area of late-nineteenth century history.

Typically gilded and often garish, the motifs of this imitation-leather span flora and fauna to repeating geometric designs. A single-coloured ground provides a backdrop for embossed foliage, festoon, or brocade patterns, and the papers were hailed by design journals as the solution to finally tying a Japanese-themed room together. Consumers were thrilled at the prospect of a hygienic, washable wallpaper which had been artfully hand-painted – a signifier of both modernity and tradition.

Here, the company Rottmann Strome & Co. is identified by scholars as the main supplier of the papers to Europe, with established factories in Tokyo and Yokohama employing a workforce of 150 'artists', and a showroom in the City of London.

Japanese Leather Papers make an interesting subject of study. Not quite an object of Japonisme due to British supervision, but often seen as too exotic for an average interior, the papers can be understood as a transnational object, simultaneously European and East Asian. How did a small souvenir item along Japan's Ise Kaido evolve to become a symbol of modernity within the British domestic interior? Was this a culmination of traditional European design and Japanese production methods, or an intriguing oddity?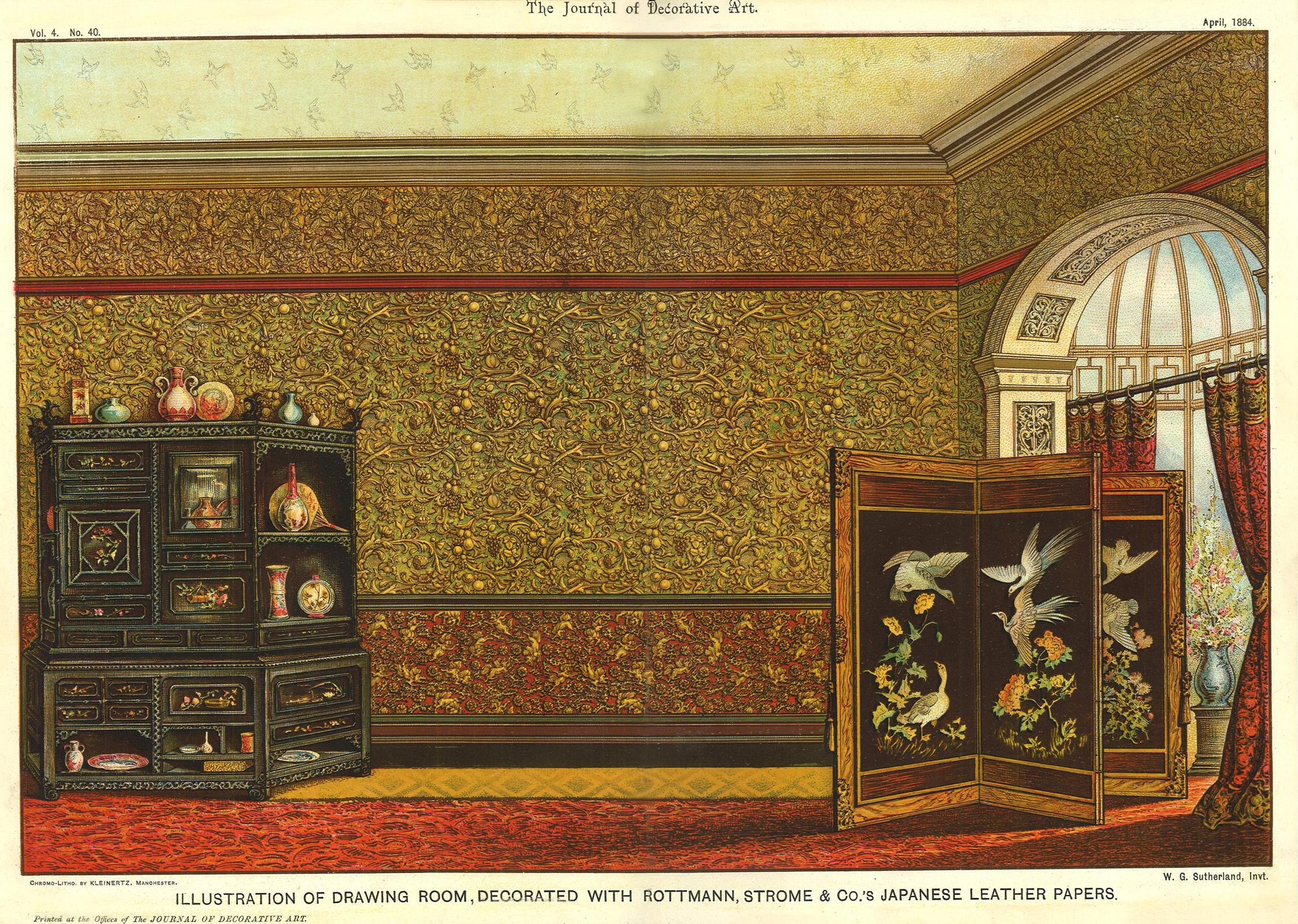 Illustration of Drawing Room, Decorated With Rottmann Strome & Co.'s Japanese Leather Papers. Printed in the first Journal of Decorative Arts with colour plates, 1884. © Caroline Simpson Collection, Sydney Living
Museum.
Reverse of Embossed Leather Panel Sent From Britain To Tokyo As A Model For Leather-Paper Wallpapers, c. 1879. © Victoria & Albert
Museum.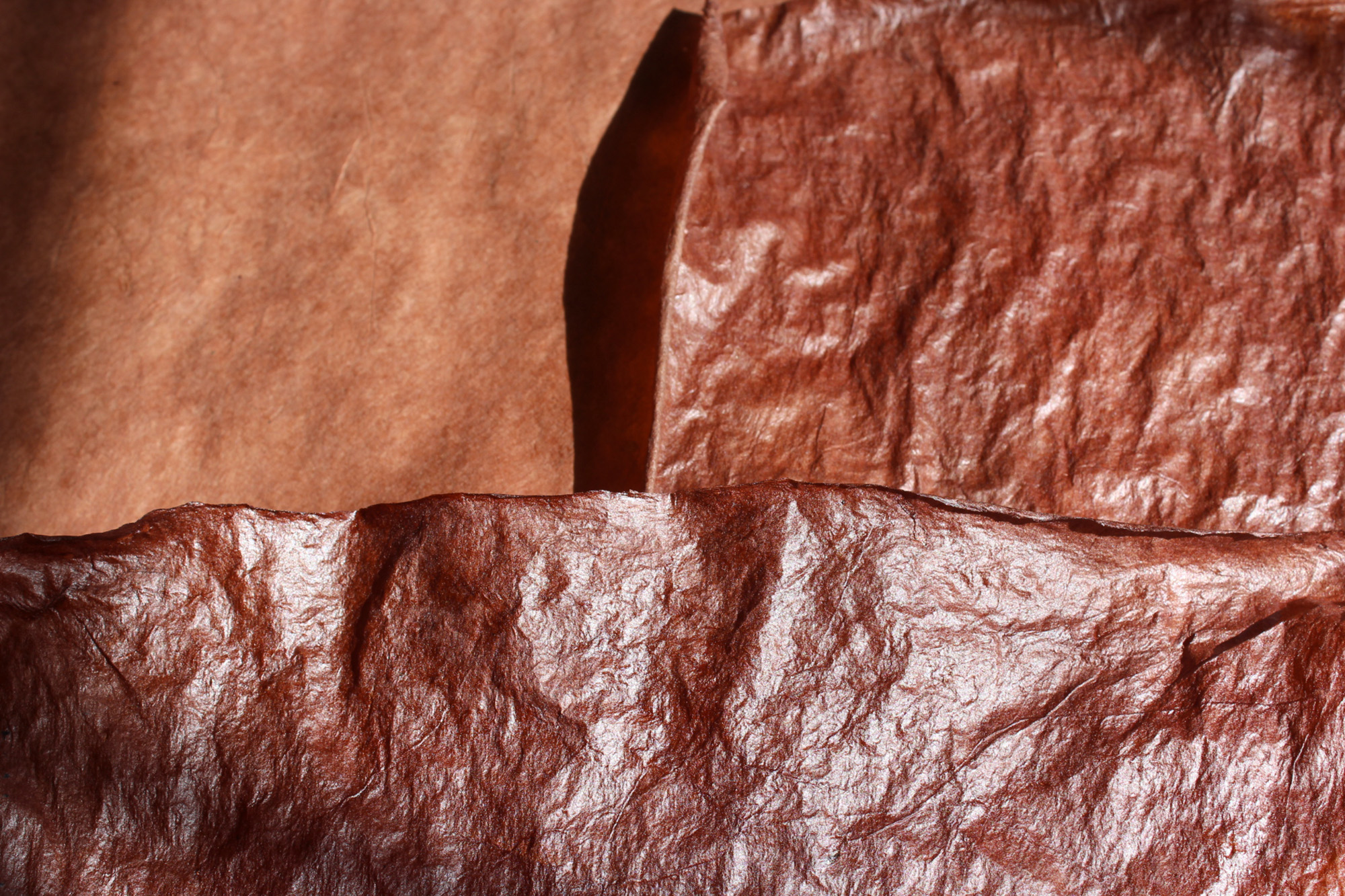 Victoria Bennett, Leather-Paper Experiments_ Examples Of Kakishibu Application On Colour And Texture (from clockwise_ one, two, and three applications), 2022. © Victoria
Bennett.
Workers of Rottmann & Co.'s 'Japanese Leather Paper' Factory Applying Ground Colour, Tokyo c. 1890. © Victoria & Albert
Museum.
---
In Addition
Victoria currently works as Digitisation Manager at the Courtauld Institute of Art. During her MA, Victoria oversaw various external archival projects, such as
World Architecture Unlocked
, and
Lightyears: The Photographers' Gallery
at 50.
Archival practice underpins much of Victoria's historic research, in which records (or lack thereof) can be seen to influence how objects are remembered and contextualised, and the differences of physical and digital objects within this.
For her historiographical essay, Victoria explored the difficulty of archiving/recording digital algorithmic platforms - using Instagram as an example. Her object essay then examined an item in the V&A with no prior cataloguing information: a Japanese Shinto paper fox mask from the late-nineteenth century, which she sought to re-contextualise - tracing this back to an annual
matsuri
performance in Nagasaki.

Finding a wealth of traditional knowledge in Japan's paper-making of this period, Victoria continued this research for her dissertation - exploring the history of paper-based 'leather' (gikakushi + kinkarakawakami) as an object of soft power in Japan's Meiji period, and its integral material component kakishibu (persimmon tannin) - studying a historic formula for its practical application and scent properties.
---
Website
hello@victoriabennett.co.uk
Instagram