---
Bio
A design historian and costume practitioner, Karen's research explores popular performance from the nineteenth century to the present day. Taking an intertheatrical approach to the material culture of performance, she centres on costume and stage technologies, exploring labour structures, creative / technical practices, and embodied knowledge of the performance space.
---
Research Project
Pulling Strings: Quick-change in British Popular Performance, 1897 -1927
An object-based study of the early twentieth-century Popular Performance genre of quickchange, focusing on design, operation and technology.
Keywords

Performance,

Modern

,

Europe

, Media, Textiles, Technologies, Untold / Marginalised Narratives, Gender Studies
Screenshot of Leopoldo Fregoli's short circa 1898 film, Segreto per Vestirsi (con aiuto), (Secrets of dressing (with help))
Source: Italian quick-change performer Leopoldo Fregoli, backstage mid costume change, attended by waiting costume technicians. Source: Leopoldo Fregoli, Segreto per Vestirsi (Con Aiuto) [1897-1899], Secret of Dressing (with Help), [1897-1899]', Cineteca Nazionale, CMI (Il Cinema Muto Italiano) <https://www.ilcinemamuto.it/betatest/segreto-per-vestirsi-con-aiuto-fregoli-n-25/> [accessed 28 March 2022]
Capturing the spirit of the age which foregrounded dynamic motion and rapid change, quick-change acts were a sensation on the turn of the nineteenth century British music-hall stage. This was due, to some extent, to the success of Leopoldo Fregoli's quick-change show at the Alhambra Theatre in London in 1897. His performances, that comprised fast, seemingly impossible, metamorphoses from one character to the next, were widely influential, inspiring other performers to emulate his artistry. These frequently solo routines of multiple rapid costume changes linked by narrative, music, or song, combined aspects of acting, comedy, illusion, magic and mimicry; they exemplified the synergies that underpinned much music-hall and variety performance. Highly entertaining, and at times, astonishing, the quick-change artist became a popular act, and was extensively performed during the first three decades of the twentieth century.

Yet the acts' popularity declined, with performances largely slipping from view in the 1930s. In this dissertation I explore that absence. However, I look not just at those disappeared performers, but also the bodies hidden behind those seen by the audience; the absence, and omission from the theatre histories of the theatre workers, expert costume technicians, with whom, utilising now obsolete costume technologies, the performer collaboratively created the performances seen onstage.

I examine the genre of quick-change in British popular performance between 1897-1927, through the work of three solo quick-change artists; the aforementioned Fregoli, alongside R.A. Roberts and Mr Hymack.

This dissertation's overall aim is to reframe their performances as collaborative works, created by a performance team. It demonstrates that these acts utilised specialised costumes whose quick-change functionality was enabled by bespoke, non-standardised fastening technologies; it also explores the commonalities of knowledge regarding construction trade secrets that were shared between acts.

Differing from the small body of existing scholarship regarding quick-change, this dissertation uses the material culture of the performance, costumes, production documents and visual representations, to explore the genre's artistry, operative methods and labour structures. As a performance centring on rapid changes of costume, quick-change teams required technicians with expert garment construction knowledge and needle skills. Thus, due to the gendered education of the era, the presence of women workers was fundamental within these teams. Two of the acts researched were operated as family businesses. This dissertation explores how, although this could be of benefit to the family, this replicated, within the theatrical environment, the patriarchal structure of wider society. For the study of quick- change performance, significant material is located within the non-academic literature of the twentieth-century popular press; thus, the dissertation uses theoretical frameworks that engage with anecdotal histories. It further establishes, through an intertheatrical reading, influences surrounding the genre's materiality, operation and performance.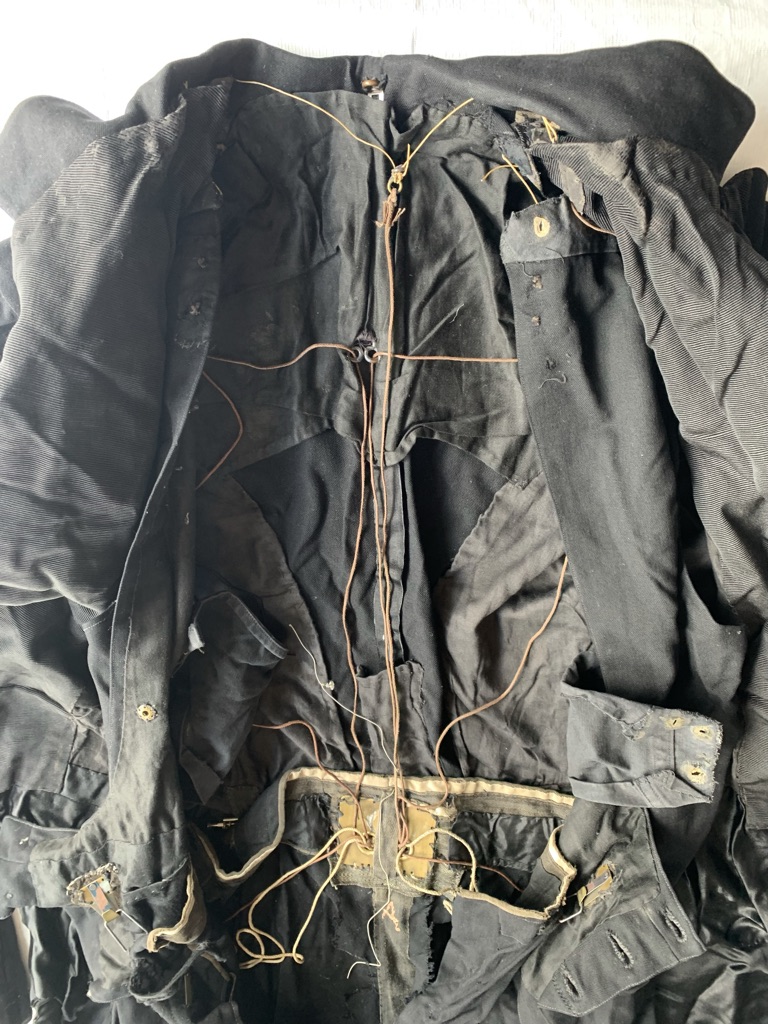 Mr Hymack's quick-change evening suit, opened to show upper body internal network of pull-string fastening technology.
Source: The Davenport Collection, Cambridge, Unknown Maker, Mr Hymack Evening Suit Quick-Change Costume, circa 1910-1916, black and white textile with metal. Photo credit © Karen Nicholson 2021
Mr Hymack's pencil-drawn diagram of internal network of strings for the back body of a quick-change costume.
Source: The Davenport Collection, Cambridge, Quinton McPherson, Costume Technology Diagram in Exercise Book, Hymack, SS Mauretania, 1909, blue card and lined paper. Photo credit © Karen Nicholson 2021.
---