---

Bio
Euphemia is a graphic designer and producer, who, through studying at the RCA, has attempted to enter the realm of design history. Her main area of interest is Japanese textiles and craftsmanship, with particular focus on men's kimono. Currently she works for an antiquarian book dealer's, where she continues her design history research and graphic design practice.


---

Research Project

Hidden Japanese Men's Dress:
Expressions of the Public and Private Self, 1850–1945


Looking under the plain outer layers of Japanese men's dress to study the spectacular and symbolic imagery that lines beneath.

Keywords
Material Culture, Early-Modern, Modern, Asia, Textiles, Applied Arts, Decolonisation, Lived Experience, Prints


Unknown maker, [Kajibaori] (Protective garment for firefighter) Design of male figure on dark blue quilted cotton, Edo period, nineteenth century (1800–1850). © Tokyo National Museum.
Euphemia Franklin, Man's Shitagi (Mid-Layer Kimono) with Famous Sights in Edo, Meiji period, nineteenth century. Cotton plain weave with embroidery. Chiba: National Museum of Japanese History. © Euphemia Franklin.
The most spectacular items of dress are not always the most obvious. In the Edo period (1603–1868), sumptuary laws prohibited extravagant displays of luxury. As a result, men's dress became increasingly austere on the outside, but could contain dazzling layers on the inside. My dissertation draws attention to decorative items of Japanese men's dress that were deliberately hidden from outside view, through four key object types: (i) nagajuban, or under kimono; (ii) hand-painted haori jacket linings; (iii) hikeshibanten firefighting coats; and (iv) senninbari 'thousand-person stitch' sashes worn by soldiers under military uniforms. These objects are unified by their hiddenness, but contrast in the ways in which they express the public and private self of the wearer.

The public and private self links to the Japanese idea of honne and tatemae. Each of the items studied speak to the expression of the public, outward-facing self of the wearer (tatemae), as well as their private, inward-facing self (honne). Through exploring the duality of public and private, this dissertation analyses the complex psychology behind hidden men's dress. Each object-type demonstrates how the public and private self can take a material form through items of dress.
---
Watch

Symposium Presentation ︎︎︎




The Design of Methodology Panel︎︎︎






---
In Addition
Between January and February 2022, I travelled to Japan to conduct primary research. Through meeting with curators, researchers and craftspeople in Tokyo, Kyoto and Kyotango, I was able to deepen my understanding of men's kimono and senninbari – their historic contexts and the extraordinary ways they were made.

Object analysis in the UK also proved highly insightful. Key findings include the discovery of hitherto unknown information on a nagajuban in the National Museum of Japanese History's collection and of a senninbari in the Imperial War Museum's collection.

Utagawa Kunisada, Sumidagawa Kamida Sekkei, 1828–9. Woodblock print. © Victoria and Albert Museum.
Unknown maker, Haori (kimono jacket), 1930s. Silk. © Victoria and Albert Museum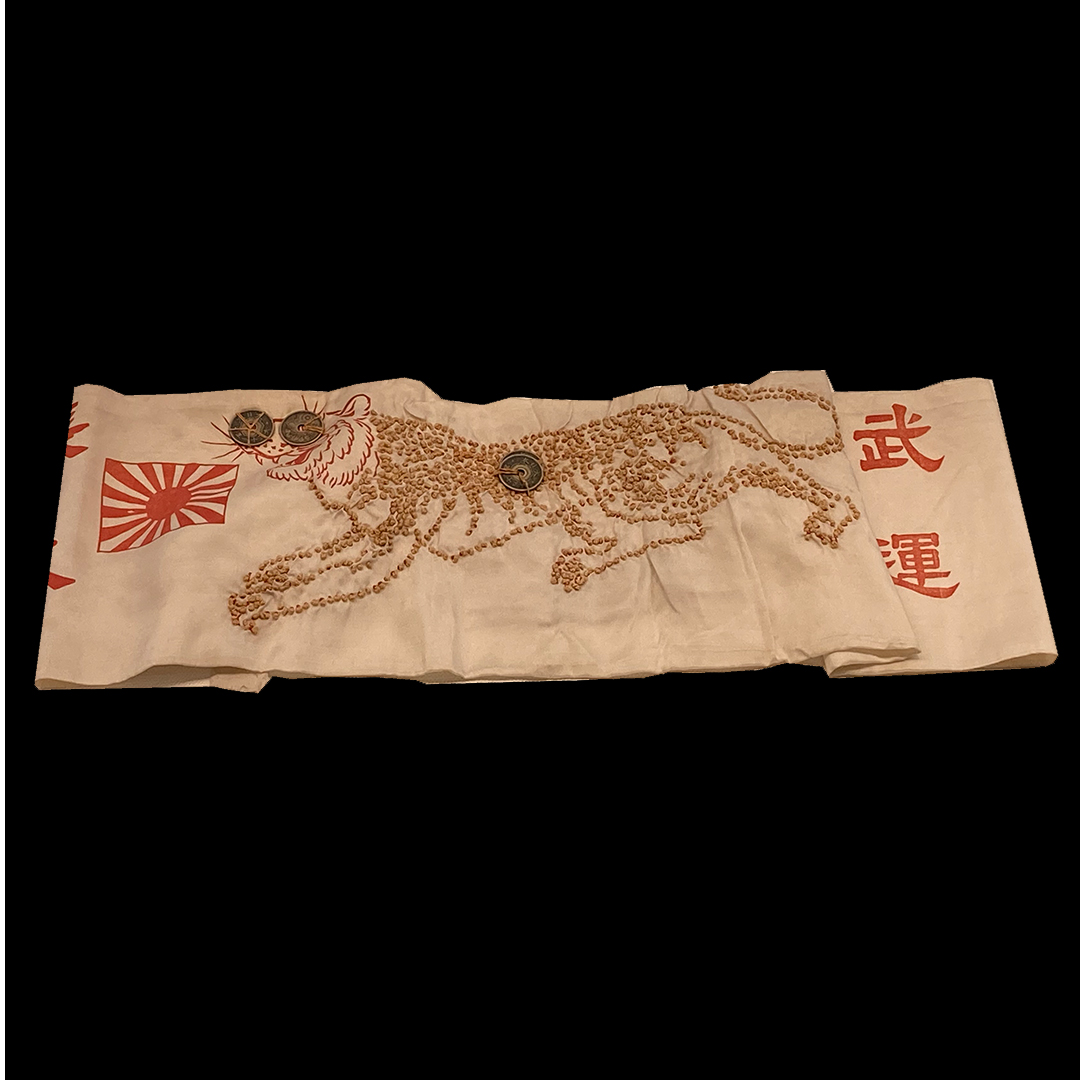 Euphemia Franklin, Display dedicated to Miyauchi Sakae Makoto, 2022 Photograph taken at the Yūshūkan Museum, Tokyo. © Euphemia Franklin.
---