---

Bio
I am a creative designer and historian of design with a strong interest for meaningful user centred design. Versatile, my design practice has tangibility and user experience at its core . Always curious,intuitive problem solver, conscientious and thorough - with a good dose of common sense, I am a fast learner with a brain full of ideas who aim for designing meaningful solutions for today and tomorrow.


---
Research Project
Digital Childhood:
From Self-experience to E-xperience Digital technology Ideologies and Design process of a pedagogy of interaction.

This research focuses on offering a voice through interviews to the designers of digital technology for children.
Keywords

Material Culture, Contemporary,

Europe

, Technologies, Methods of Documentation, Oral Histories, Untold / Marginalised Narratives
llustration by Pawel Kuczynski
The time spent by children on digital technologies combined with the accelerating effect of their introduction into the educational sphere brought by the Covid-19 pandemic has raised anxiety and reluctance towards the said technologies. Through academic studies and popular discourses, it is understood that the principal reason behind this anxiety is due to parents feeling outdated by the rapid technological innovations thus leading to a loss of control on the exposure of their children to digital technology and its security and privacy risks. Teachers are reluctant to the introduction of digital technologies within the educational system as they feel assisted, replaced or overwhelmed by the new skills required to handle them. This raising anxiety has conducted several governments to develop laws and restrictions concerning the usage of digital technology within the home and the education. Based on the research question: How do designers respond to technological anxiety while supporting and incorporating a pedagogy of learning through child-focused technology in their practice?
This dissertation examines how the children of the current generation, referred as digital natives, raises the attention on the lasting impact of technology on future generations. Through the study of a range of scientific research and various testimonies and in order to answer the research question, this dissertation uncovers significant ideologies divergences. Digital technology is first considered to cause the learner to be de-trained rather than trained, to be distributed, dispersed and disseminated. Secondly a positive impact on learning through the development of new skills via digital technology is considered. The decisive contributions of Montessori and Dewey through the introduction of active learning pedagogy influence on finding a new fields of application for the notions of self-learning, tangibility and interaction via the creation of tangible digital learning technologies by designers and researchers. Thus bringing forward the emergence of a new sector of design: interaction design. In a broader context this dissertation advocates for the necessity of incorporating digital technology history to the field of design history where academic scholarship on the subject are lacking.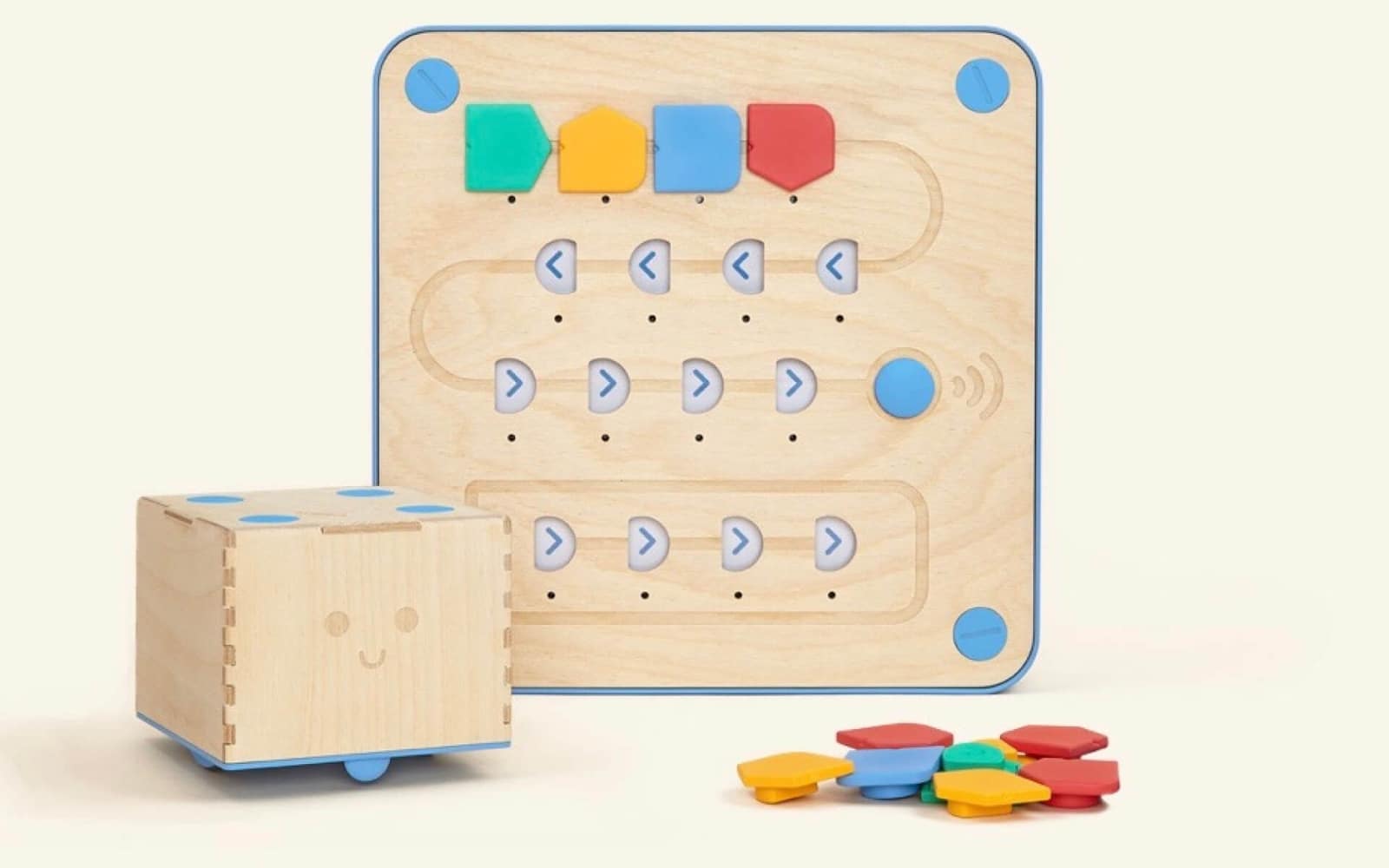 Cubetto is a robot controlled by a tangible programming language that allows children to develop computational thinking skills. Image taken from
FINH website
From by product design background to my final work as a history of design student my work has always gravitated around creating for and with children.

My dissertation research is driven by an interest in material histories within child driven design, and the introduction of digital technologies and edutainment, through design, at home and at school.Across my research project I focused on understanding how design history can account for offering a voice to designers responding to technological anxiety by incorporating educational concepts into their designs. Direct dialogue through interviews with Bruno Schillinger from KANO and Filippo Yacob from FINH as been key to the success of collecting new material. This allowed me to give a voice to the makers of the said technology, voice forgotten in secondary literature and History of Design.
Building the Kano PC. Credits: Kano
---