Bernadette Victoria Silva
---

Bio
Bernadette Silva is a designer and design historian. Her research focuses on performance and intersections between labour, mythmaking, and private life, particularly queer worldbuilding. She is also interested in borders and cultural influence, having grown up in El Paso, Texas with a background in film, literature, history, and animation.


---
Research Project
Lucha y Lucha: Change, Costume, And Character In El Paso's Lucha Libre Landscape from 1987-2021

My research uses an object-led approach to examine agency and performance tradition within lucha libre character design.
Keywords
Performance,

Contemporary

,

Americas

, Textiles, Oral Histories, Untold / Marginalised Narratives, Gender Studies
Bernadette Silva, Red Cassandro Gown Designed by Omar Morales, 2021. © Bernadette Silva.
This dissertation project uses a material-focused approach to research lucha libre, or Mexican freestyle wrestling, in El Paso, Texas, determining the extent to which performers exert agency over persona design. The project includes uses case studies that break down character design from two luchadores by materials relating to the body, hair, and face to contextualize costume within performance lineages and contemporary obstacles and issues.

The first case study centers on Cassandro, an exótico or drag wrestler, who debuted in 1987. With a generation of fellow exóticos, the 'Lilac Wave' of wrestlers utilized costume and makeup design to signal a change in performance style that sought to redefine exótico wrestling while highlighting their own sexuality and private lives. Close object analysis and application of costume theory reveal details that acknowledge the labor behind performance and a context that reconsiders the materiality of hair, makeup, and their function in creating a recognizable persona for a performer who wrestles unmasked.

The second chapter follows Dulce Tormenta/Sweet Storm through the process of preparing to debut an original character in 2021 and the challenge of working as a live performer through COVID-19, unable to access international resources but finding alternative sources of costume through performance areas with shared historical contexts. The case study also examines vertical integration in a performance context and the extent to which a performer-manager has agency in the design and production process.

In other words, with an ownership stake in all levels of production, to what extent can a performer stray from gendered performance tradition or utilize recognizable costume elements to introduce performance styles to new markets and venues?

As a whole, the study identifies the objects that enable the transformational process between the self and the character, then becoming the physical remains of performance and collected as sites of representation that capture historical meaning while also using the 'sequin method' to reframe a wider lucha libre history that often marginalizes exótico and luchadora participation. Additionally, the study focuses on wrestlers from El Paso, Texas with strong ties to Ciudad Juarez, Mexico, examining the deep cultural ties between the two cities and the impact living on the U.S.-Mexico border has on daily life.



Alex Briseño, Dulce Tormenta/Sweet Storm, 2021. El Paso, Texas.
Bernadette Silva, Dulce Tormenta First Mask, 2021. El Paso, Texas, El Paso Museum of History.
---

Watch

Symposium Presentation ︎︎︎


Transcultural Objects Panel ︎︎︎






---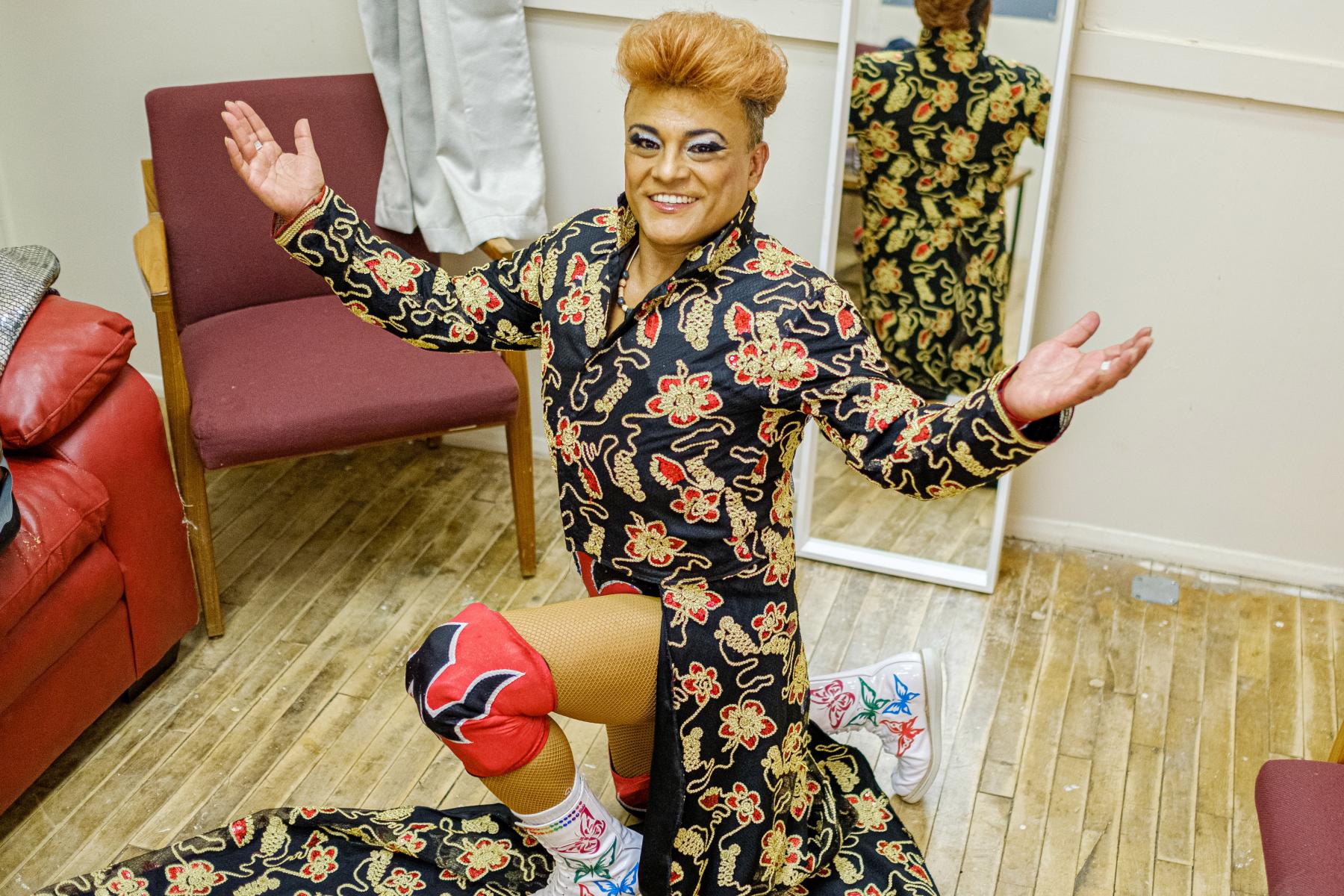 Rowdy Lee Dugan, Cassandro, the Exótico! screening at the Marfa Visitor Center, 2019. Marfa, Texas.
---